Tablet Touch Control

Connected with control terminal through built-in WIFI or Bluetooth, supporting multi-touch/gesture control.
Real-time Guiding System
Built-in graphical operation guiding system, zero learning cost, easy operation.
Ultrathin Design
Ultrathin body with maximum thickness of 92 mm.













Advanced design of drive system with all-motor drive and low noise.
Strong responsive operation framework with more efficient human-computer
interaction system than traditional control panel.
Supports Retina screen with outstanding image quality.
Supports multi-touch and gesture control.
Supports wireless network, connection with YEASN LM/AR, quick optometry data exchange.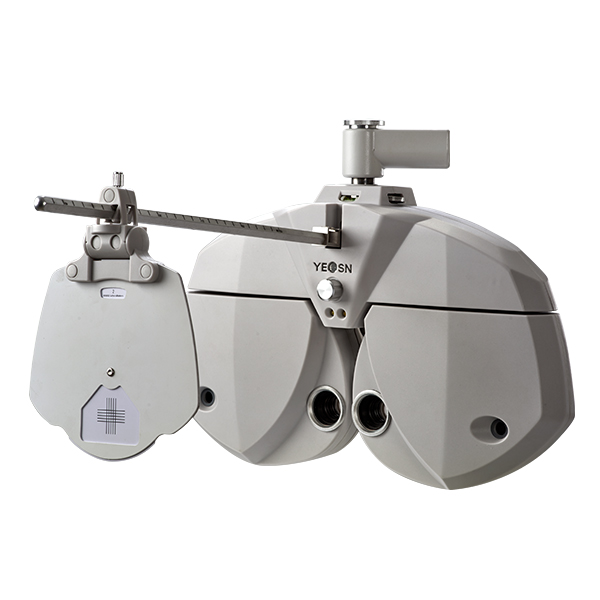 | | |
| --- | --- |
| Sphere lens | -29.00D~+26.75D, Step 0.12D/0.25D/1D |
| | -19.00D~+16.75D(Cross Cylindrical Lens or Prism) |
| Cylinder lens | 0.00D~±8.75D, Step 0.25D/1D |
| Axis | 0°~180°,Step 1°/5° |
| Pupil distance | 48mm~82mm(Far) |
| | 49mm~75mm(Near,Working Distance35cm) |
| Rotary prism | 0~20Δ,Step 0.1Δ,0.5Δ |
| Cross cylinder | ±0.25D/±0.50D(Auto),±0.50D(Fixed) |
| Size and weight | Refractor 400(W)×92(D)×275(H)mm/3.9kg |
| | Printer 200(W)×200(D)×80(H)mm/0.6kg |